MarineGEO coordinates collaborative network projects that bring researchers from around the world together to tackle questions about how diverse marine life influences the way marine ecosystems work. Each year we invite project ideas from partners, with one selected based on scientific merit and support from our community. Some examples:
2021: How are biodiversity and habitat complexity related?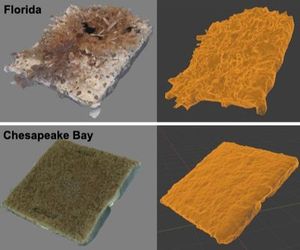 Our most recent experiment, PANELS (Photogrammetry and NExt-generation sequencing of EcologicaL Systems) examines this question in communities of fouling invertebrates that develop on PVC tiles deployed at 17 sites in 4 countries, led by Dean Janiak and David Branson of the Smithsonian Marine Station in Florida. Partners photographed each tile from all angles after 30, 60, and 90 days in the water. From these photos they created 3-D reconstructions of the developing communities of fouling invertebrates and measured habitat complexity. We also sampled environmental DNA (eDNA) from the tiles to test a new and efficient approach for inventorying biodiversity. Analysis is ongoing.
2020: How does nutrient pollution change microbial communities and carbon storage in marine sediments?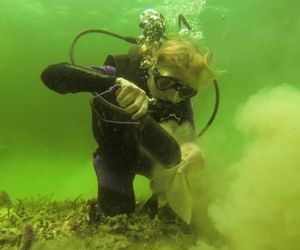 The SED-BIOME experiment was deployed under the supervision of David Baker and Isis Guibert at Hong Kong University, at about 40 sites worldwide. The experiment simulated nutrient pollution and measured its effects on decomposition of organic matter in sediments, and how sediment microbial communities influence associated carbon storage.  Analysis is ongoing.
2019: How does biodiversity sustain healthy seagrass food webs?
The MarineGEO Global Seagrass Survey engaged partners at 48 sites in 18 countries beginning in 2019 to collect baseline information on how seagrasses function as valuable habitats and promote healthy food webs. We aimed to learn: does the structure of seagrass food webs change predictably across the world's environments and geography? How does energy move through the food web, and how do this flux change with environment and associated animal communities around the world's coastlines? We look forward to sharing the results soon.
2018: How does ocean temperature affect predation pressure? The first PanAmEx project, initiated in 2018 and 2019, was an experiment to measure gradients in interaction strength among marine benthic organisms, focusing on how predation affects assembly of communities of fouling organisms. The experiment compared development of fouling communities (sessile invertebrates) on PVC panels that were either exposed or protected from predators (mainly fishes) using cages. The PVC panels were deployed from (preferably floating) docks, providing a simple and standardized substratum for colonization of marine organisms. Results revealed higher predator consumption rates and consistently stronger impacts on biomass and species composition of marine invertebrate communities in warmer tropical waters. The strength of the trends were variable among regions within the study (e.g., North Pacific vs South Atlantic) but by including sites across such a large latitudinal range, the large scale patterns were revealed. The results were published in 2022 in Science and can be viewed here: https://doi.org/10.1126/science.abc4916
2016: How does marine predation vary around the globe?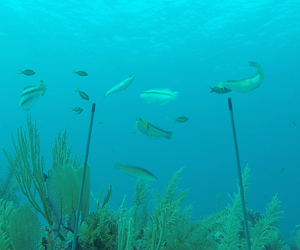 Creating a map of predation pressure across the world's seagrass ecosystems. The Global 'Bitemap' Project used a simple experiment to answer this question at 42 sites worldwide, spanning 105° of latitude. Small pieces of dried squid "bait" were attached to garden stakes ("squidpops"), deployed in shallow water, and partners scored time of bait loss to measure how rate of bait consumption varies across latitude, temperature regime, and geographic variation in fish communities. Surprisingly, bait loss (predation) was highest in subtropical regions  (25-35° latitude) in both northern and southern hemispheres, in contrast to terrestrial studies where consumption was highest near the equator. The best predictor of bait loss was the kinds of fishes in the area, with the most active feeders at mid-latitudes. The results of this project were published in 2020 in the Proceedings of the National Academy of Science and can be viewed here: https://doi.org/10.1073/pnas.2005255117