Estuary & Ocean Science Center, San Francisco State University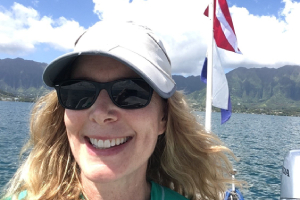 Katharyn is a coastal ecologist specializing in science-informed restoration, with a focus on improving the design and resilience of estuarine habitat restoration projects. She earned a BS in Zoology at the University of Maryland, an MS in Biology at San Diego State, and a PhD in Biology at UCLA. As a biology professor at San Francisco State's Estuary & Ocean Science Center since 2004, she teaches undergrad and grad students to apply basic ecological understanding and scientific methodology to conservation and management problems. Katharyn works with her students and staff primarily in tidal marshes and seagrass beds, with a focus on climate change adaptation, testing "green infrastructure" enhancements to reduce shoreline erosion, provide refuge for wildlife during flooding, build carbon stores, and locally mitigate acidifying waters.  
Katharyn is a contributor to the San Francisco Bay Observatory.