Smithsonian Tropical Research Institute, Bocas del Toro, Panama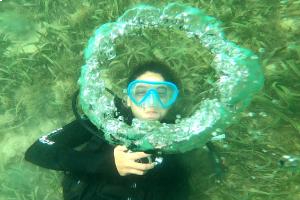 Viviana graduated from the Maritime International University of Panama in February 2018 with a BS In Marine Biology. As a research technician, she is interested in coral reef resilience and in understanding the influence of human practices on marine mammal acoustics. 
She started working at the Bocas del Toro Research station in August 2019 and is very happy to be part of the MarineGEO team. "This job has given me the opportunity to meet scientists of other countries who have shared their knowledge with me and my coworkers. Also, to have the chance to be constantly working in the ocean, which is my favorite place to be is a dream come true". 
Viviana is a contributor to the Caribbean, Panama Observatory.