MARE – Marine and Environmental Sciences Centre Madeira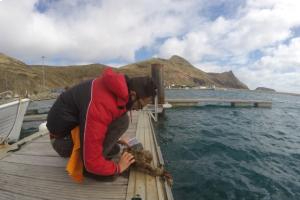 With a bachelor's degree in Marine and Freshwater Biology, Patricio Ramalhosa has broad interests and formal training in marine stress ecology, experimental ecology, marine fouling communities, biological invasions, dry dock inspections, marine litter and ROVs. Patricio has participated in multiple international training programs and compiled a comprehensive database of ship traffic from 1935-2017 for every port and marina of Madeira Archipelago. He is currently responsible for the Laboratory & mesocosms system MOSS (Marine Organisms Stress Simulator) at MARE-Madeira and is always ready to help his former colleagues. He has published over 20 publications in peer-reviewed journals. 
Patricio is a contributor to the Madeira Island, Portugal Observatory.
Google Scholar | ORCID | ResearchGate