Estuary & Ocean Science Center, San Francisco State University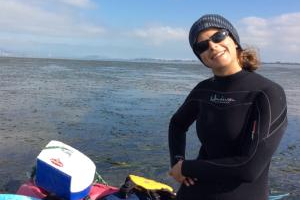 Margot is a marine and wetland ecologist broadly interested in coastal ecology, resilience to climate change, and the ecological impacts of restoration. Her current work in the Boyer Lab focuses on the ecology and restoration of eelgrass and its associated species in San Francisco Bay, as well as evaluating the impacts of incorporating active restoration techniques such as plantings into marsh restoration sites. Margot received a BS in Biological Sciences from University of Maryland, College Park in 2012, and a MS in Marine Science from San Francisco State University in 2018. 
Margot is a contributor to the San Francisco Bay Observatory.