Geospatial Research Scientist
The Hakai Institute's Calvert Ecological Observatory (HICEO)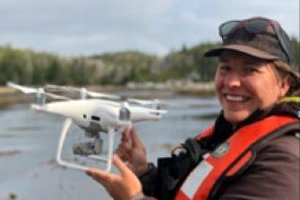 Luba Reshitnyk joined the Hakai Institute in 2014 after finishing her MSc with the Marine Protected Research Group at the University of Victoria, British Columbia. Her thesis work took her to the remote southern end of the Haida Gwaii archipelago where she discovered her passion for marine geography. She completed her BSc in Environmental Science with a specialization in conservation biology at the University of Ottawa (Ottawa, Ontario). 
At Hakai, she is a member of the geospatial team. Her work focuses on monitoring changes in the spatial extent of kelp and seagrass beds at monitoring sites at the Hakai Institute Calvert Ecological Observatory. Within the team, her work focuses on using drones, satellite imagery and sonar to develop new methods for mapping nearshore habitats. 
When not thinking about maps, she enjoys hiking, canoeing, knitting, playing ultimate frisbee, baking obscure French pastries, and making perogies. 
Luba is a contributor to the British Columbia Observatory.