Hakai Institute | Calvert Ecological Observatory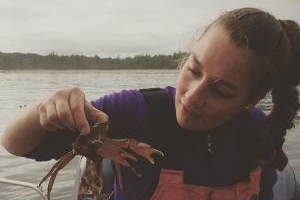 Gillian is the field lead for the Rocky Intertidal Program at the Hakai Institute and works as a technician on the dive team on other Hakai Nearshore Ecology and MarineGEO projects. She graduated in 2015 from the University of Victoria with a Bachelor of Science in Marine Biology and lives in Victoria, British Columbia. Her research interests include intertidal invertebrate biodiversity and the effects of climate change on nearshore marine habitats. 
Gillian is a contributor to the British Columbia Observatory.