Hakai Institute | Quadra Island / Calvert Island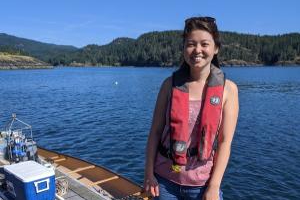 Faye joined the Hakai Institute in 2020, where she is a part of the Nearshore Habitats team. She works on field, lab, and data work for various long-term ecological research projects. Much of her time in the field is spent in seagrass beds and in rocky intertidal areas. Faye also helps with several other programs at Hakai, including ones led by the Oceanography and Plankton Biodiversity teams.   
Faye completed her MS at the University of British Columbia Okanagan in 2019, where her research focused on freshwater diatom dispersal via adherence to waterbird feathers. Prior to that, she also completed her BS Honours at UBCO, where she studied both marine and freshwater topics. Her other interests include science education outreach and open science practices.  
Faye is a contributor to the British Columbia Observatory.