Hakai Institute Calvert Island Observatory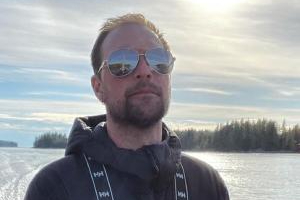 Having grownup up on Vancouver Island, the ocean and BC Coast has always been a large part of Derek's life, as was time spent outdoors. While working on his bachelor's degree in Geography at Vancouver Island University 2005-2012, he quickly learned that field-based courses were where his interests lied and set his mind to getting a career that would allow his work to be hands on, and his time spent outside collecting data. As an avid recreational diver, he attended a talk on seagrass transplanting and restoration done via SCUBA and decided that a career in diving might be just the thing he was looking for. After graduating from VIU, Derek attended commercial dive school and completed his Divers Certification Board of Canada Occupational SCUBA ticket. He combined that ticket and a few years of commercial dive experience with his geography degree, and the rest is history. Working as a survey diver and field technician, Derek focuses his interests on long-term ecological monitoring, impact compensation projects, and has a particular affinity for rockfish and Rockfish Conservation Areas.  
Derek is a contributor to the British Columbia Central Coast Observatory.