Hakai Institute | British Columbia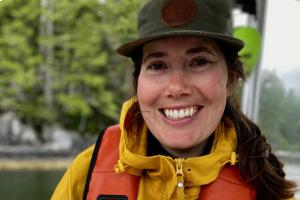 Carolyn grew up in coastal British Columbia and is passionate about all things marine. She completed a BSc in Marine Biology at the University of British Columbia, where her love for seagrass ecosystems first started. Upon graduation she took a hiatus from working in marine systems to monitor endangered mammals in the grasslands of southern Saskatchewan. Carolyn then pursued her Master's in Resource and Environmental Management at Simon Fraser University, where her research explored carbon storage in temperate seagrass meadows. Carolyn currently lives on Quadra Island, BC, where she works at the Hakai Institute's Quadra Island Ecological Observatory, primarily extracting DNA and running PCR's in the Genome Laboratory. Carolyn's interests span many trophic levels, from microbes to macrophytes, birds to mammals.  
Carolyn is a contributor to the British Columbia Central Coast Observatory.