Smithsonian Tropical Research Institute | Bocas del Toro Research Station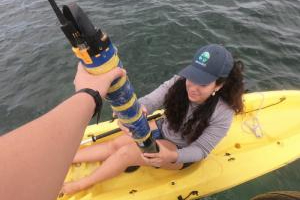 Carolina was born and raised in La Chorrera, Panama and has a bachelor's degree in Marine Biology from the Maritime International University of Panama. She is interested in marine ecology, especially in coral reefs habitat's condition (diseases and lesions) and their conservation. Carolina is also curious about how climate change, physical parameters of the ocean, and anthropogenic effects are affecting this ecosystem throughout the years. Her hobbies include hiking, longboard skateboarding, scuba diving, and photography (including underwater photography). She is also very passionate about birds and marine life in general. Carolina currently lives in Isla Colón, located by Bocas del Toro, Panama. 
Carolina is a contributor to the Caribbean, Panama Observatory.